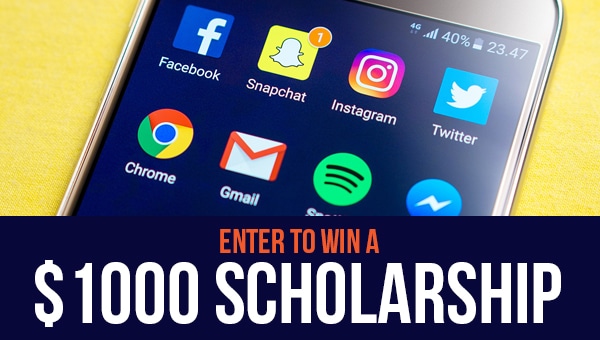 Dash Two Essay Writing Scholarship Contest For College Seniors and Juniors
As incoming college juniors and seniors look to their future after graduation, they don't often get the chance to look back and consider what they might have done differently. At DASH TWO we'd like to encourage students to think about how they might have used social media differently during their first years in college. So we're offering a $1000 scholarship for the best essay by a college student on that very topic.
For many students social media offers a way to make new friends and take a break from their studies. Some even use social networks to establish professional connections and enter the business world before graduating. Unfortunately sometimes social media can also lead to interrupted studying, unwanted drama and the destruction of one's reputation.
We hope our essay writing contest can be an opportunity for juniors and seniors to consider how they might have used social media differently but not just for the sake of reminiscing. Looking back on social media usage in one's early college years can be a way of using social media more effectively before leaving college. In addition, improving how one uses social media can be a boon as one enters the workplace and seeks new contacts while avoiding old mistakes.
Rules
Essays should be:
Written by an incoming college junior or senior in the U.S.;
Written in English and no more than 500 words;
The original work of the student submitting the essay.
Submissions will be accepted until August 1st, 2017. Winners will be notified on or before August 15th, 2017.
The winning essay will be published on the DASH TWO blog but will remain the property of the essay writer.
Judging and Prize
Judging will be based on writing skills, creative responses and practical insight.
– One winner will be chosen to receive a $1000 scholarship.
Submit
Essays should be submitted via social media. A link to https://dashtwo.com must be included at the end of your post or below your video in the description.
You have the following options:
– Read your essay aloud on YouTube;
– Post on a blogging platform such as Tumblr, Medium or WordPress.com.
Then email [email protected] or submit below with the following information by August 1st, 2017:
– A link to your video or post;
– Email and phone number (only used to contact winner);
– And the name of your college or university, and the date you expect to graduate.
We look forward to watching and reading your essays and considering your thoughts on social media in college. Best of luck!