About DASH TWO
DASH TWO formed in April 2009 — yep, smack in the middle of the recession. Most people probably wouldn't choose that as the time to start a new business, but when you have an idea you believe in, there's no reason to wait. Good ideas trump economic chaos.

Our founder, Gino Sesto, worked in media for years, including a long stint at the Gary Group. Over time, he recognized something missing at too many big agencies — a desire to actually help the client. He made that the focus of his new effort.

Gino knew he could offer better service, better support and better insights to clients with a leaner, more client-focused operation. He also knew that if you have the will to launch in the middle of a recession and it works out, that indicates a bright future. And so DASH TWO began. Since opening, DASH TWO has added satellite offices in Nashville and Pakistan.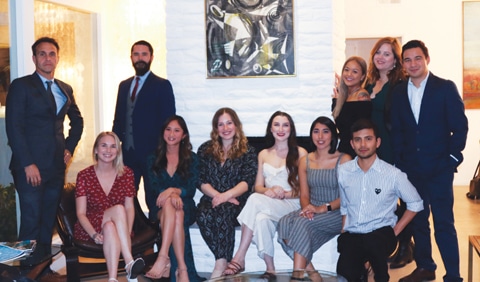 Why DASH TWO?
Gino's a longtime pilot who teaches others how to fly during his spare time. In aviation lingo, when planes fly in formation, the lead plane is called dash one. The plane that follows right behind the lead plane, supporting dash one along the way, is called dash two.
That's how we see ourselves. Our clients are in the lead plane's pilot seat. We're trailing along to assist wherever you need it. We tether ourselves to your vision, and we make it come true.
Our Powers
We're small. We're nimble. We work on a project basis or on an on going basis. We want you to continue working with us because you love what we've done (and you will!) not because you're locked into a contract. That's not how we work.
Most of our clients are medium-sized businesses ready to try something new and imaginative. Partnering with us is no-fuss. We're straightforward, and we talk to you directly. We're not interested in the bureaucracy or red tape that muddy so many agency dealings.
Our Services
We specialize in digital and out of home advertising, and we provide television, radio, print and creative services, too. Our campaigns are memorable, dynamic, focused and efficient.
Our Clients
Gino's background is in music — we work with a lot of record labels, artists and concert promoters. We've worked with clients including Live Nation, Universal Music Group, Interscope Records and more. We've won OBIE awards and helped some really cool bands, like Home Free.
---
We'd love to work with you, too. Shoot us a note and tell us what you need. Let's talk and see what we can do for you.