SNIPES, FLYPOSTING, WILD POSTING, THE OUTDOOR ADS WITH THE MOST NAMES!
Wild Postings
PERFECT FOR FASHION, FILM, OR MUSIC.
In a world that has gone high tech and everything is in the cloud, there are still ways of guerilla marketing that are old school and way more effective. Like the wanted outlaws of the old west whose bounties were advertised to every hired gun, except now the only thing that will be wanted from these posters is your product or service!
Wild posting campaigns are most effective for driving awareness, whether you're advertising an upcoming concert, a new album or a film release. You want to do it in areas where your target demographic will be hanging out, to spread the word to people who will respond to the ads.
What is wild posting, how do you execute a campaign, and will you break the law if you do it? Here's the full scoop on wild posting and why it might be right for your next campaign.
What is a Wild Posting?
This form of out of home advertising that isn't new, but it's effective. It's been called a lot of things, like Flypostings, Bill Posting, and Wild Postings; but the act is the same getting your posters posted in high traffic areas to bring the message to the people. A style that guerrilla marketing companies once used for underground concerts is now being used for millions of successful businesses. Get your message seen in areas of amazing visibility and populace while receiving a massive return on investment.
Is it Legal?
We would never encourage anyone or any business to break the law, and none of our clients ever pay any fines. We are trying to simply add urban color to the gray landscapes while making sure that your products and services get to the people. Will it annoy private property owners? Probably. Will it cause the SWAT team to be called? Never.
How Do You Execute a Wild Posting Campaign?
If you are interested in giving wild posting a try, you have come to the right place. We have years of experience with this medium. We have done so many campaigns, we know nitty-gritty details that can help spread the word about your event, album, film, etc., such as:
Where to put up your posters
What size posters to use
What type of material to use for the posters
What Locations Work Best for Wild Postings?
You can make any location work, really, if your target demographic will be in the area. But some of the most popular venues include:
Urban downtowns
Parks
Outdoor malls
Skateboard parks
You've probably seen plenty of wild postings on walls around construction sites. This style of advertising really relies on the imagination. We love coming up with new ideas for where to put posters and reaping the benefits for our clients.
We consider it the ultimate compliment when someone swipes one of the posters and brings it home to display on their wall. It means we did our job well for you.
Wild Posters in New York Los Angeles Chicago San Francisco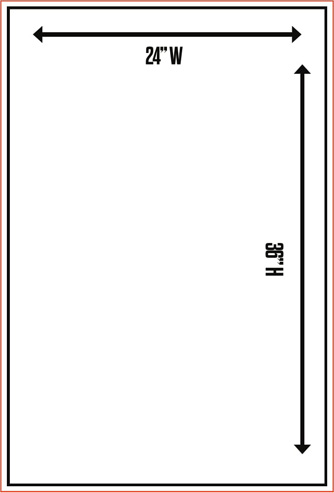 MATERIAL:
Offset printing
80# Gloss Text Paper
No Special Coating
ARTWORK:
We recommend sending artwork using the following guidelines:
– Supply Final High Resolution PDF Files (PrintReady)
– No crop marks or color bars required
– All images are CMYK @ 300DPI at Final Print Size (100%)
– Build files with 1/8" bleed
Final Trim Size
36"(h) x 24" (w)
With 1/8" bleed
36.25"(h) x 24.25" (w)