Facebook likes are the fuel that keeps your organic social reach going. Without them, your messages can fall upon deaf ears and lead to poor engagement. While getting more likes won't directly improve your bottom line, it can reinforce your other marketing goals that do.
Pages looking to increase their volume of likes can use the following eight tried-and-true tactics to boost their appeal, their visibility, and their likelihood of earning more fans.
1. Clean Up Your Page
Step one in getting more likes is ensuring that your page is something worth liking. Make sure your profile picture and cover photo are appealing, high-quality (not blurry) and not an overt sales pitch.
Then, ensure your "About" page is complete, accurate, descriptive and at least somewhat interesting. Verify that your business categories are also accurate since these send signals to Facebook's internal search engine for people looking to discover new pages.
With these factors in place, you can increase the chances that someone who stumbles upon your page will actually "like" it.
2. Cross Promote With Followers on Other Social Platforms and Marketing Channels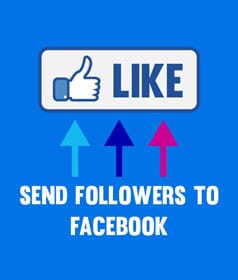 Do you have followers on Twitter? LinkedIn? Instagram? If you do, then sending them a direct link to your Facebook page and requesting they "like" it is a quick and surefire way to boost your page likes.
Plenty of brands leave the audiences they earn on social platforms fragmented, but if they periodically remind their audience about their Facebook page, they can encourage people to take the two seconds to "like" the brand page.
Also, in the future, ensure that your social media profiles and website pages all have direct access to your Facebook page. You can even embed a like button using a special codecreated as a feature for Facebook.
3. Build Custom Audiences With Your Email Subscriber List
Going hand-in-hand with the above suggestion, know that you can import your email subscriber list (in .csv format) into Facebook's "invite people to your page" feature. By importing your contacts list from Outlook or your preferred email platform, you can quickly link up to loyal brand followers.
4. Encourage All Employees to Increase Facebook Likes and Share Your Page
Another quick and painless way to increase your page likes is to ensure that all employees have liked your page. While this practice may seem like gaming the system, it only makes sense if you want to expand your reach to their friends list.
Besides, their likes can increase the volume of overall likes so that new potential followers don't feel as if they're arriving at an empty party. Request that your employees share the page and encourage their friends list to like it, too, as an added boost.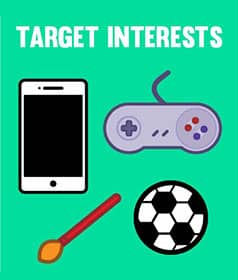 Are you certain that your content is as relevant and appealing as possible to your current audience? Find out by typing "Pages liked by people who like [insert page]" in Facebook's search bar.
You can use the name of your page in place of "[insert page]" or you can use a more popular page in a similar niche to you to see what their audience enjoys. Once you find these pages, explore the content they publish and what types of posts then seem to get the most engagement.
You can also spend a little bit of money to promote your posts to people who like these pages or share traits with page followers, such as their job title and industry. Promoting posts with targeted audiences is a surefire way to reach more people and encourage them to like your page.
6. Use Lookalike Audiences
Another promoted post feature worth looking into is the ability to create custom lookalike audiences. If your page has over 1,000 likes, this feature will fairly accurately suss out other people similar to them for you to promote your posts to.
Note that if you only have a few hundred followers, the data generated by this feature may be less accurate, leading to less-than-perfect lookalike matches.
7. Ask People to Open Up
One strategy to getting more likes is to increase the engagement of your existing followers. The more they interact with your posts by liking, sharing and commenting, the more you can expand your reach to new potential followers.
Including blatant call-to-action signals on your posts is an excellent way to promote this type of expanded reach. Caption your most interesting photos and hilarious videos by saying "Share this with someone who needs a smile!"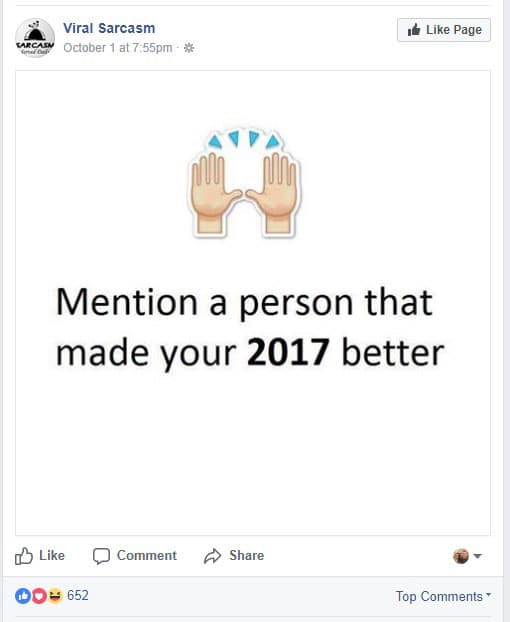 Another posting format that drives engagement asks people to tag/mention friends in the comments, spreading the post's visibility across multiple timelines. You can see the example above as one possibility. Issuing a friendly challenge like "Type @c and tag the first person who comes up. They now have to wash your car!" can also increase engagement — even if no one ever actually ends up washing any cars.
8. Pay Attention to Audience Analytics and Don't Overpost!
Paying attention to the posts that drive engagement and the posts that fall flat ensures that you are only posting content people enjoy. Otherwise, you may miss out on chances for new followers. Worse, your current followers could get annoyed and unfollow you!
Make note of posting times, content and frequency to track trends in post engagement. Avoid posting multiple times (>3) a day for multiple days in a row if you're worried that you could be over saturating your existing audience. Also, note the times when posts get the most engagement so that you can maximize your audience.
Following these tips can be an amazing way to grow your audience, get more likes and become a bigger name than ever.
If you can tie your new audiences directly into your marketing funnel, you also have just raised your chances at converting each "like" into a paying customer. Now that's some real social action!