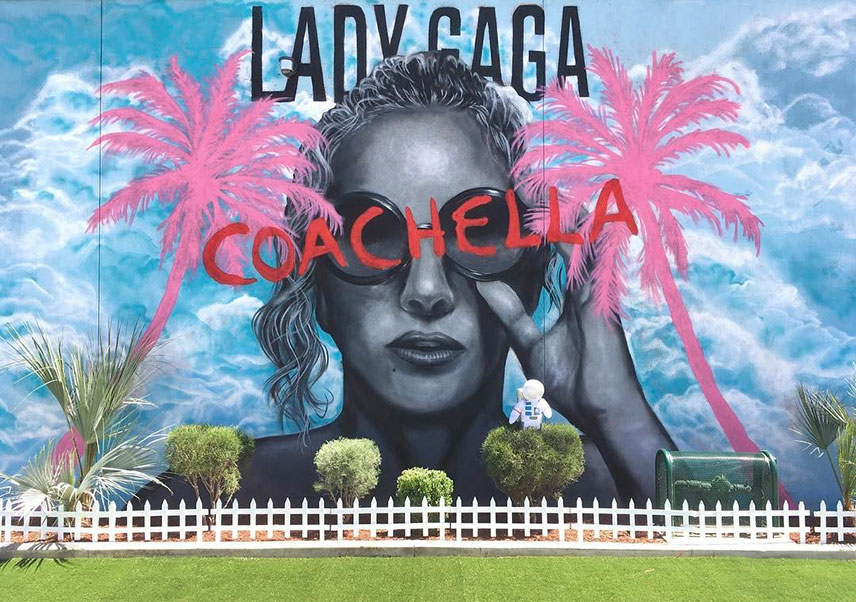 The Ask:
How to make a social media impact at an event like Coachella on a very limited budget?
About the Client:
Interscope Records was founded in 1990 and is a major American record label. Their parent company is Universal music group. They are famous for giving artists and producers complete creative control. Their clientele is vast and includes mega icons U2, Eminem and Lady Gaga. For this particular job, Interscope would be focusing on Lady Gaga who was going to be performing at the Coachella music festival in the Colorado desert.
DASH TWO Analysis:
The road to Coachella is littered with hundreds of billboards all trying to promote the major acts performing at the festival as well as new album releases. It's prime outdoor media real estate. But to stand out above the billboard noise along the route DASH TWO needed to come up with a different approach. We knew we needed to put a new spin on outdoor advertising by creating a unique event that profiled Lady Gaga and the Indio Community while also finding a creative way to engage Lady Gaga fans on social media.
Main Objective:
Create an experiential campaign combining out-of-home and digital advertising. Create high-impact awareness around Coachella with a mural while also driving fan engagement on social media on a limited budget.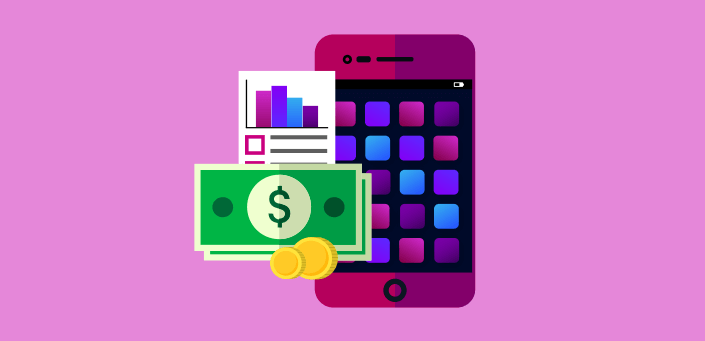 DASH TWO CUSTOM SOLUTION:
The idea was simple and wildly effective. DASH TWO would find a great visual artist to create a mural of Lady Gaga on a suitable location. Then once completed, Lady Gaga would let her fans know about its location and fans who dropped by could have the opportunity to grab one of the 250 free limited edition t-shirts.
Scouting a suitable location in Indio, the small Californian town that is home to the Coachella festival.
We found the ideal location at K&A Market and Yunes Laundromat owned and operated by Salah Alwishah and his family for the last 20-years – a true Indio institution.
We found the perfect artist in LA-based SYNTEK. He painted the mural based on a design provided by Interscope.
In front of the mural was a fake lawn and picket fence creating a mini-Coachella moment for Lady Gaga fans where they could stand to take their selfies and pics.
Once the mural was completed, Lady Gaga shared the news with her fans on social media as she made her way to Coachella.
Fans were informed that 250 fans would be lucky enough to get an exclusively limited edition t-shirt to commemorate the event.

DASH TWO Advantage:
Our particular expertise in creating outdoor advertising happenings that get people excited and engaged is one of the hallmarks of the DASH TWO offerings. We knew that the combo of a superstar like Lady Gaga combined with our outdoor advertising experience, spectacular visual and give away was going to spark excitement on social media.
The fantastic bonus is that the Indio community got to have this attention-grabbing mural painted on an established business –drawing additional traffic.
The Results:
In the first two hours of the mural reveal more than 500 people arrived at the scene. Fans swarmed the area eager to have their pictures taken on the fake lawn. These images quickly made their way across various social media platforms casing a major buzz. There were almost half a million likes on Lady Gaga's Instagram post regarding the mural. Salah Alwishah, the owner of the K&A Market and Yunes Laundromat, said that fans continued to visit the mural long after the t-shirt giveaway had ended. It was a pit stop they needed to make their pilgrimage to see Lady Gaga at Coachella 2017.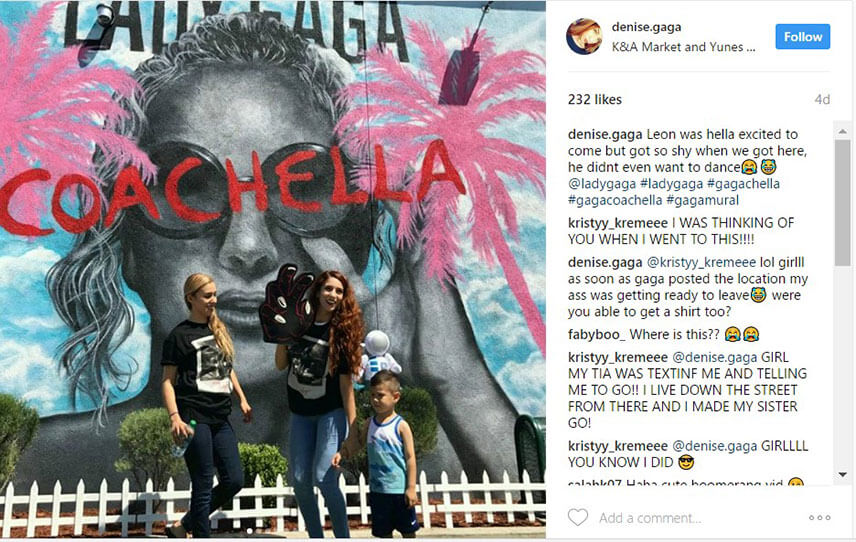 Big wins:
Indio was thrilled with the artistic addition to their community.
Lady Gaga got to make her fans ecstatic
Interscope received a cost-effective, highly successful promotional event
Salah Alwishah got a gorgeous piece of contemporary mural art for K&A Market
SYNTEK got a bigger canvas for his work and increased his reputation
The Lady Gaga Fans got to have a special moment in Indio; some even luckier ones got the Lady Gaga Tee.
Social media exploded with impressive images of the mural.
DASH TWO walked tall knowing we made it all happen!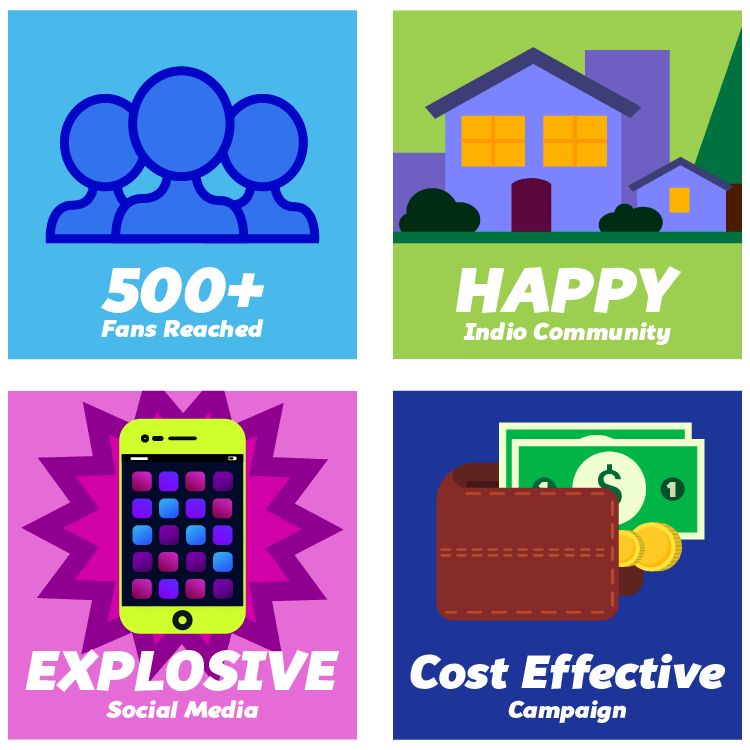 "How to go set social media ablaze? Pick a spot in the middle of nowhere near Coachella festival. Do a big ass mural 10x20. Then have the powerhouse post it on her socials to go there and get a free t-shirt by posing in front of the mural and then sit back and watch people share it like crazy. It worked for us" –DASH TWO Outdoor Advertising team
We'd love to provide a custom solution for your brand. Contact us today so we can walk you through our wide range of digital advertising options.